Wylde Ivy
A Winter Story Silken Body Oil
Regular price
$10.00 USD
Sale price
$10.00 USD
Unit price
per
Sale
Sold out
A Winter Story Collection:
This is my story of memories of winters past and wishes of winters come. Inspired by winter seasons at home, where the low foothills of the Appalachian mountains are studded with bustling Christmas tree farms, barren corn fields blanked with shimmering snow, red winter birds flashing through the white and gray woods, and a cozy home and hearth with all the warmth and amazing aromas of the season.
See the entire collection here:
A Winter Story Collection
The Scents:Coming Home
They say that home is not a place or a building. They say home is where you are….wherever you are.
Where people come together in warmth, with laughter, enjoying sweet things and simmering spices. A small home tucked in the hills surrounded by pines. A fire in the hearth and the love of those gathered around a huge oak table worn by generations of people coming home.
Cinnamon and sugared folded into warm vanilla, aged oak and fresh firewood, mittens drying on the mantle, and golden amber December sun.
- A warm gourmand vanilla and spice fragrance with just a touch of warm woods.
Fir and Frost
Heavy morning frost feathers its way up the window panes, drawing delicate crystal curls on the glass. Outside the fir boughs hang heavy with the deep cold. The rising December sun filters through the pine trees, glittering like diamonds.
Frost kissed fir boughs with a touch of white amber, aged cedarwood, warm tonka beans, snowflakes, and dried vanilla.
- Cool and crisp, a fresh unisex fragrance of a pine forest wrapped in pure white December snow.
Garlands
Sweet spiced treasures strung with ribbons, cloth, and twine. Draped over mantles and doorways, hung on railings and woven through the tree, releasing their sweet fragrance to mingle with the cozy scents of the season.
Farm fresh cream steeped with grated nutmeg, vanilla beans, caramel, and cardamom kissed with a touch of white cedarwood, and birch bark.
- A creamy spiced gourmand fragrance.
Gathering Pinecones
We run through the woods, the chill biting our noses, our feet slipping on the dense blanket of fallen pine needles. Someone leaves a red scarf behind in a tree. We laugh as we see who can gather the most pine cones. With sap sticky fingers, we stuff the pinecones with nuts, seeds, and dried fruit and string them with heavy twine. Now the pinecones will be ready to decorate the sleeping trees and feed the animals when the snow comes and covers their world.
Vetiver, smoked vanilla, bergamot, pine needles, mulling spices, a whisper of apple cider and dried tobacco leaves.
- A unisex fragrance of winter woods and cheer.
White Winter Birch
A morning walk through the white birch tree grove blanketed in snow fallen overnight...white on white. The wood fire smoke lingers so much sweeter on December air and every forest sound is hushed in the dawn stillness. Your breath halos you as you walk, golden and crystalline in the rays of the rising sun. A flash of cardinal red splits the white and somewhere a deer watches with huge soft knowing eyes.
Smoked vanilla, dry sandalwood, fresh snow, forest moss, birch bark, and sweet wood smoke.
- A warm, dry unisex wood fragrance.
These "Dry Oil Sprays" contain only all natural plant oils and high quality fragrance oils! There are no Silicones in in these Body Oils. Silken Body Oils contain a blending of Coconut Oil (which is a super light, non-greasy oil) and Jojoba Oil (very similar to the makeup of the oil found in human skin). To make this Body Oil truly special, Calendula Extract and Vitamin E have been added for their soothing properties along with a bounty of Antioxidant and Fatty Acid rich oils like Meadowfoam Seed, Cranberry Seed, and Raspberry Seed.
Why Use Silken Body Oils?
This oil will refresh your skin and leave you smelling wonderful at the same time! Body Oils help to seal in moisture, protecting against moisture loss.
Body Oil Usage
On the Body:
Super concentrated, one spray for each leg or arm is all it takes for most skin types. Body Oils may be applied to dry skin by either spraying directly onto the body then rubbed in, or by spraying into your hands and rubbing into your skin. You may also apply Body Oils to damp skin just after a shower.
In the Hair:
As an added plus, these Body Oils are fabulous in hair! Simply add a tiny amount into you hands, rub together and run though your wet or dry hair! Use more for dry coarse hair or for summer abused hair (it's wonderful to use before sailing, riding in convertibles, at the beach…you know all those fun summer activities). In the winter, they will help soothe hair and fight flyaways.
In the Bath:
Try adding a few sprays into your bath water for a lovely scented bath oil.
As a Massage Oil:
When applied more heavily, Silken Body Oil can be used as a light massage oil.
Special Attributes:
Light & Airy / Great for all skin types / Vegan & Cruelty Free
Contains: Coconut Oil infused with Calendula Extract, JoJoba Oil, Fragrance, and Oils of Meadowfoam Seed, Raspberry Seed, & Cranberry Seed, (and) Tocopherol (Vit. E), (and) Rosemary Extract.  
Share
I order from this shop on a regular basis....
I order from this shop on a regular basis. Love all the items I have ordered.
I order from this shop on a regular basis....
I order from this shop on a regular basis. Love all the items I have ordered.
I always love everything I get from this s...
I always love everything I get from this shop.
I always love everything I get from this s...
I always love everything I get from this shop.
This review has no content.
This review has no content.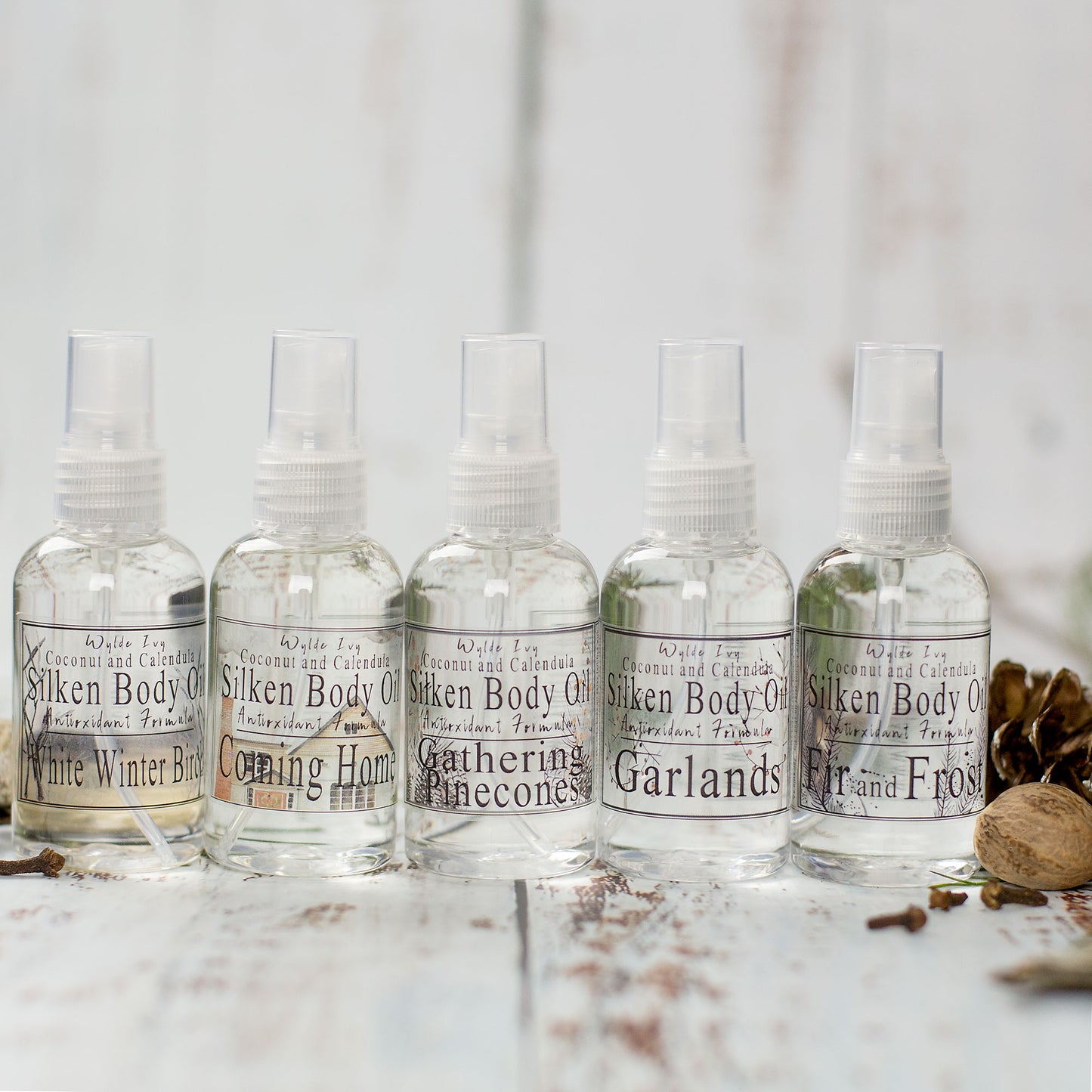 Let customers speak for us