Wylde Ivy
Hello September Collection Silken Body Oil
Regular price
$12.00 USD
Sale price
$12.00 USD
Unit price
per
Sale
Sold out
The Hello September Collection:
Golden afternoons slip into brisk nights and the scents of autumn approaching on the breeze. Welcome back the aromas of pumpkins and apples, fall woods and sweet treats, and all the glorious spices that fall brings.

Briar + Vanilla:
Dry vanilla, charred amber, dried brambles warmed in the sun, white cedarwood bows, dried oakmoss dusted with crushed tonka beans, a touch of woodsmoke on frost nipped air mingled with a soft sugar musk

Caramel Darling:
Notes of coconut milk, moist coconut chunks, tonka bean, dried vanilla, and a hint of blonde sandalwood

Cedarwood Hollow:
Sweet and inviting blend of dry winter woods with a heavy dose of gourmand vanilla and hints of deep black cocoa and coffee notes. Aged cypress bark, roasted cocoa nuts, steeped vanilla beans, dried tonka beans, crushed pine cones, blonde sandalwood, with a dash of powdered espresso. Unisex

Fireborn:
Sweet and deep...a dark fragrance with layers of black cocoa powder, crushed tonka beans, ambrette seeds, roasted coffee, dewy vanilla beans, crystallized amber, dried orange peel, with a hint of woodsmoke.
Pumpkin Ambre:
Warm and sweet, like late September afternoons  where the golden sun kisses the pumpkins slumbering the the fields.  Notes of baking pumpkins mixed with kitchen spices and creamy vanilla and warm gingerbread mix with the rich deep fragrances of amber and sandalwood.

Roan Apple:
The golden kiss of autumn on late summer apples. Sweet cored apples, a hint of fresh pumpkin, caramelized sugar cane, and honeyed white oak. This fragrance is sweet, fresh, and everything autumn.

The Full Hello September Collection
View the Scent Descriptions

These "Dry Oil Sprays" contain only all natural plant oils and high quality fragrance oils! There are no Silicones in in these Body Oils. Silken Body Oils contain a blending of Coconut Oil (which is a super light, non-greasy oil) and Jojoba Oil (very similar to the makeup of the oil found in human skin). To make this Body Oil truly special, Calendula Extract and Vitamin E have been added for their soothing properties along with a bounty of Antioxidant and Fatty Acid rich oils like Meadowfoam Seed, Cranberry Seed, and Raspberry Seed.

Why Use Silken Body Oils?
This oil will refresh your skin and leave you smelling wonderful at the same time! Body Oils help to seal in moisture, protecting against moisture loss.

Body Oil Usage
On the Body: Super concentrated, one spray for each leg or arm is all it takes for most skin types. Body Oils may be applied to dry skin by either spraying directly onto the body then rubbed in, or by spraying into your hands and rubbing into your skin. You may also apply Body Oils to damp skin just after a shower.

In the Hair: As an added plus, these Body Oils are fabulous in hair! Simply add a tiny amount into you hands, rub together and run though your wet or dry hair! Use more for dry coarse hair or for summer abused hair (it's wonderful to use before sailing, riding in convertibles, at the beach…you know all those fun summer activities). In the winter, they will help soothe hair and fight flyaways.

In the Bath: Try adding a few sprays into your bath water for a lovely scented bath oil.

As a Massage Oil: When applied more heavily, Silken Body Oil can be used as a light massage oil.

Special Attributes:
Light & Airy / Great for all skin types / Vegan & Cruelty Free

Contains: Coconut Oil infused with Calendula Extract, JoJoba Oil, Fragrance, and Oils of Meadowfoam Seed, Raspberry Seed, & Cranberry Seed, (and) Tocopherol (Vit. E), (and) Rosemary Extract.

Share
Great body oil that's light and absorbs qu...
Great body oil that's light and absorbs quickly. The scent Caramel Darling is lovely and sophisticated without being too much.
Amazing as always, thank you!
Amazing as always, thank you!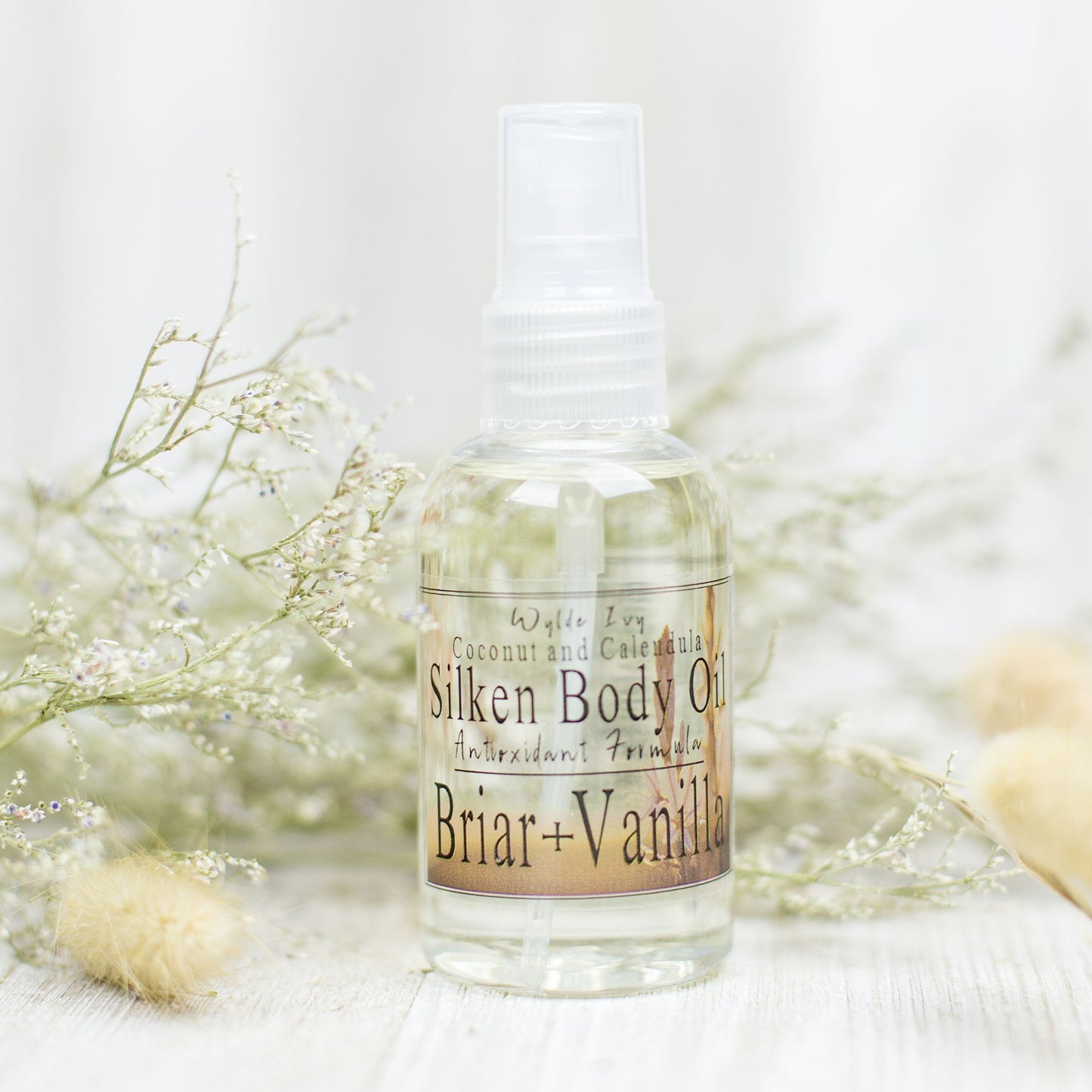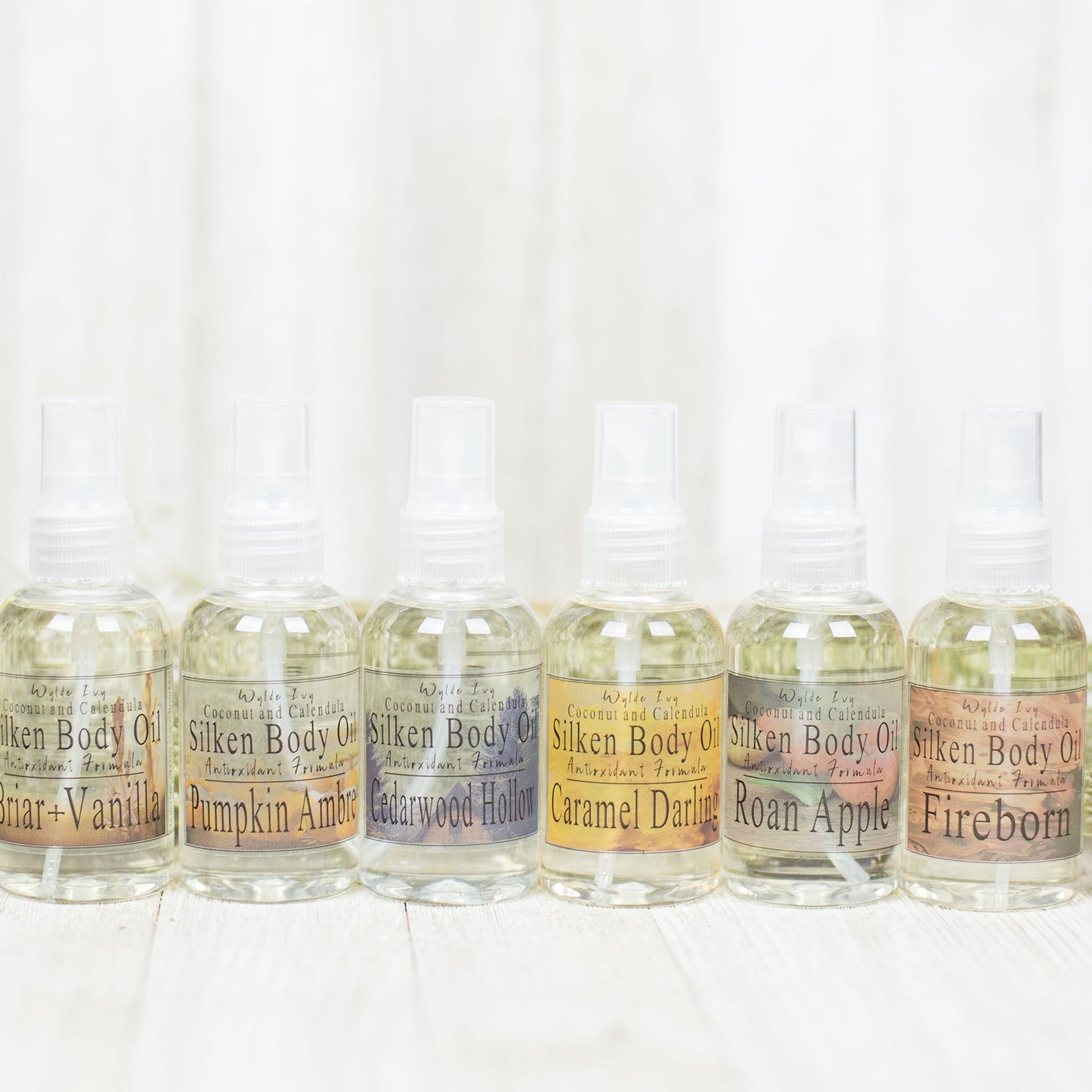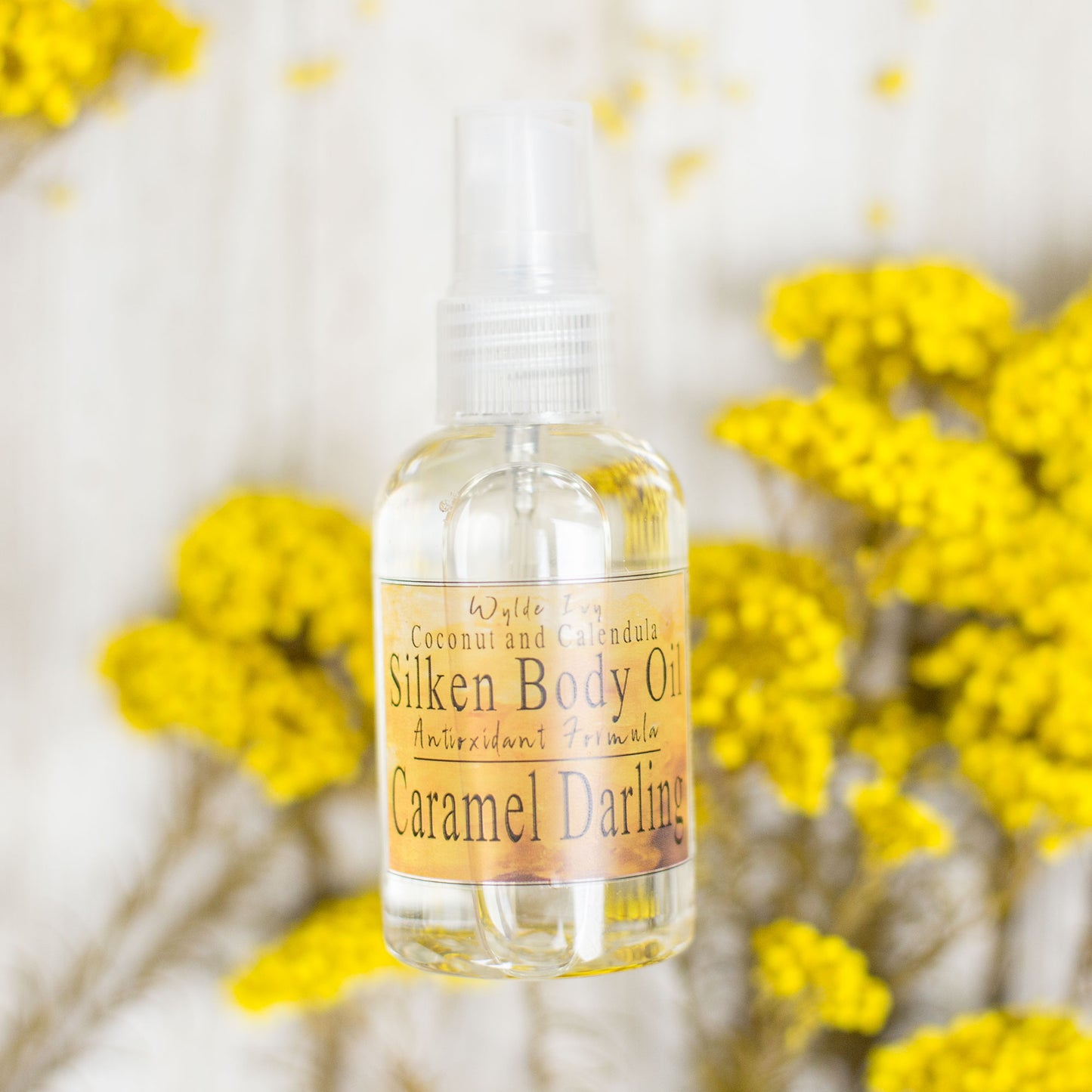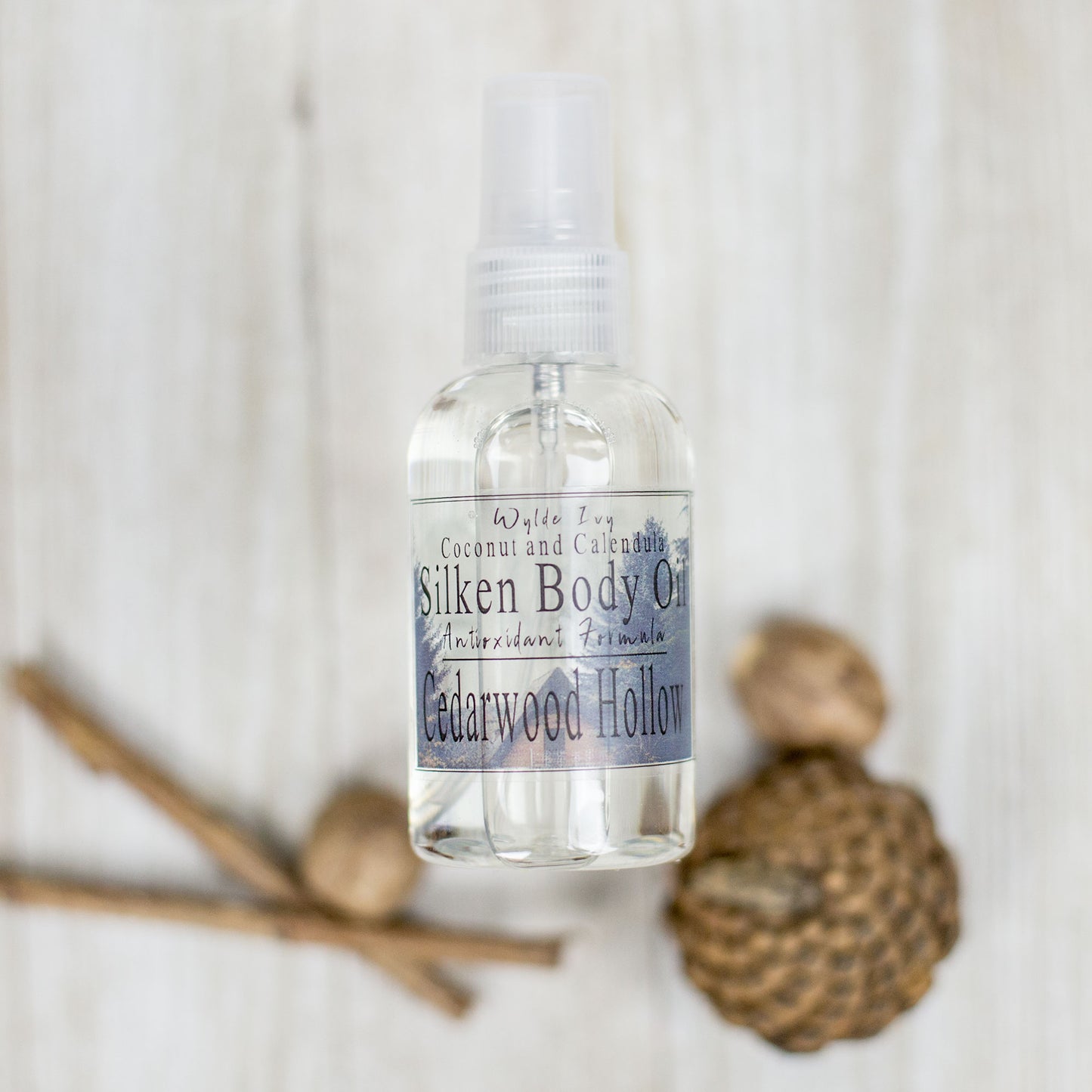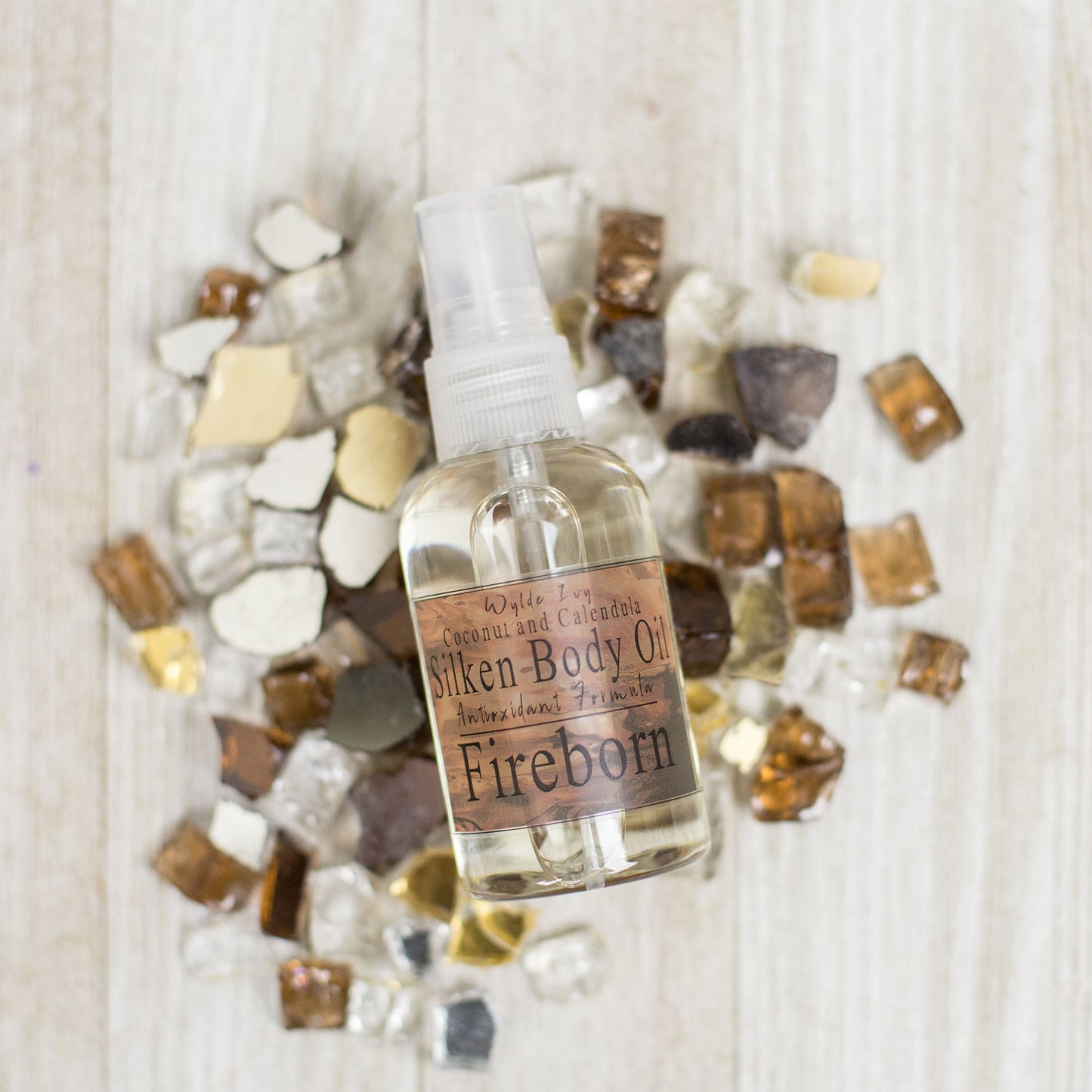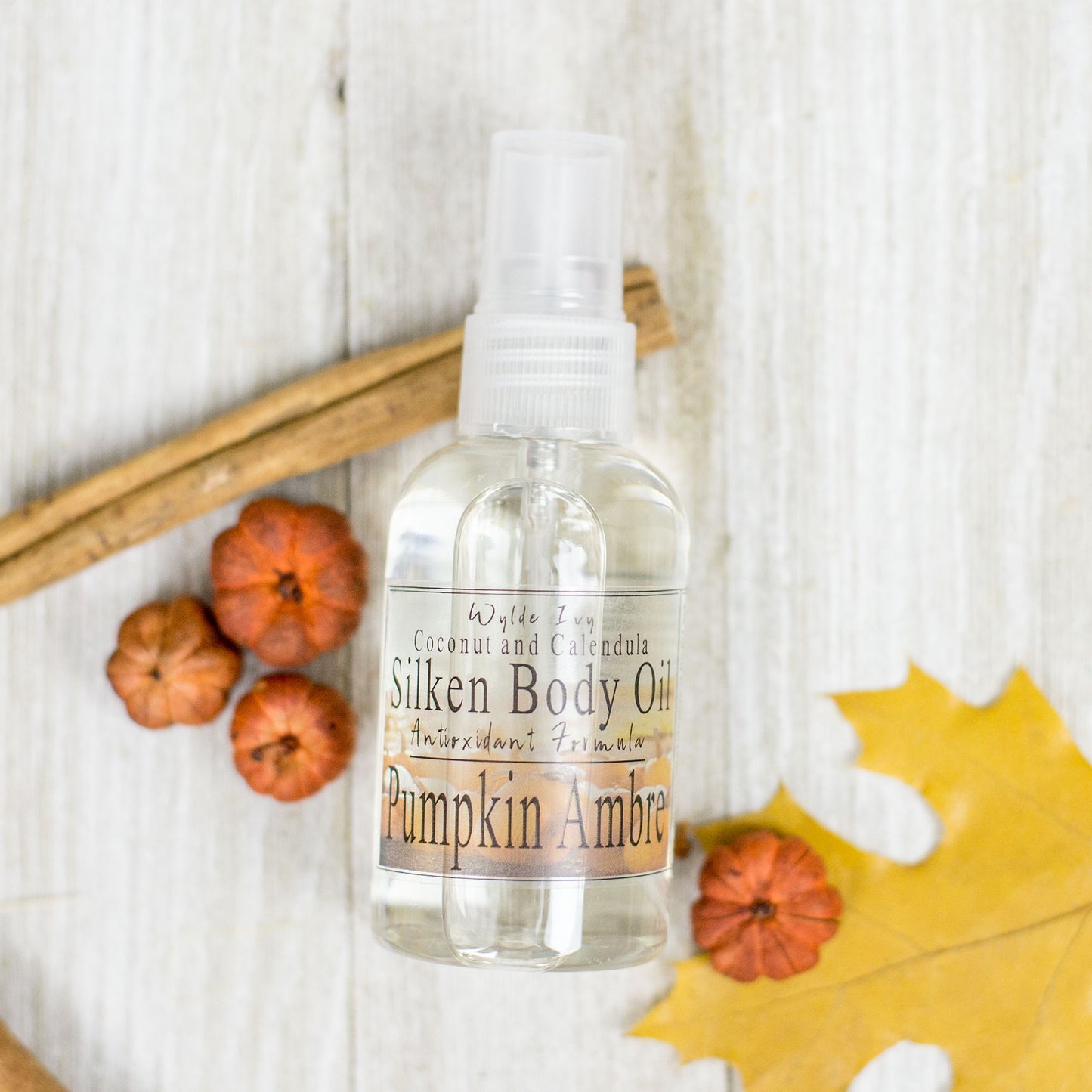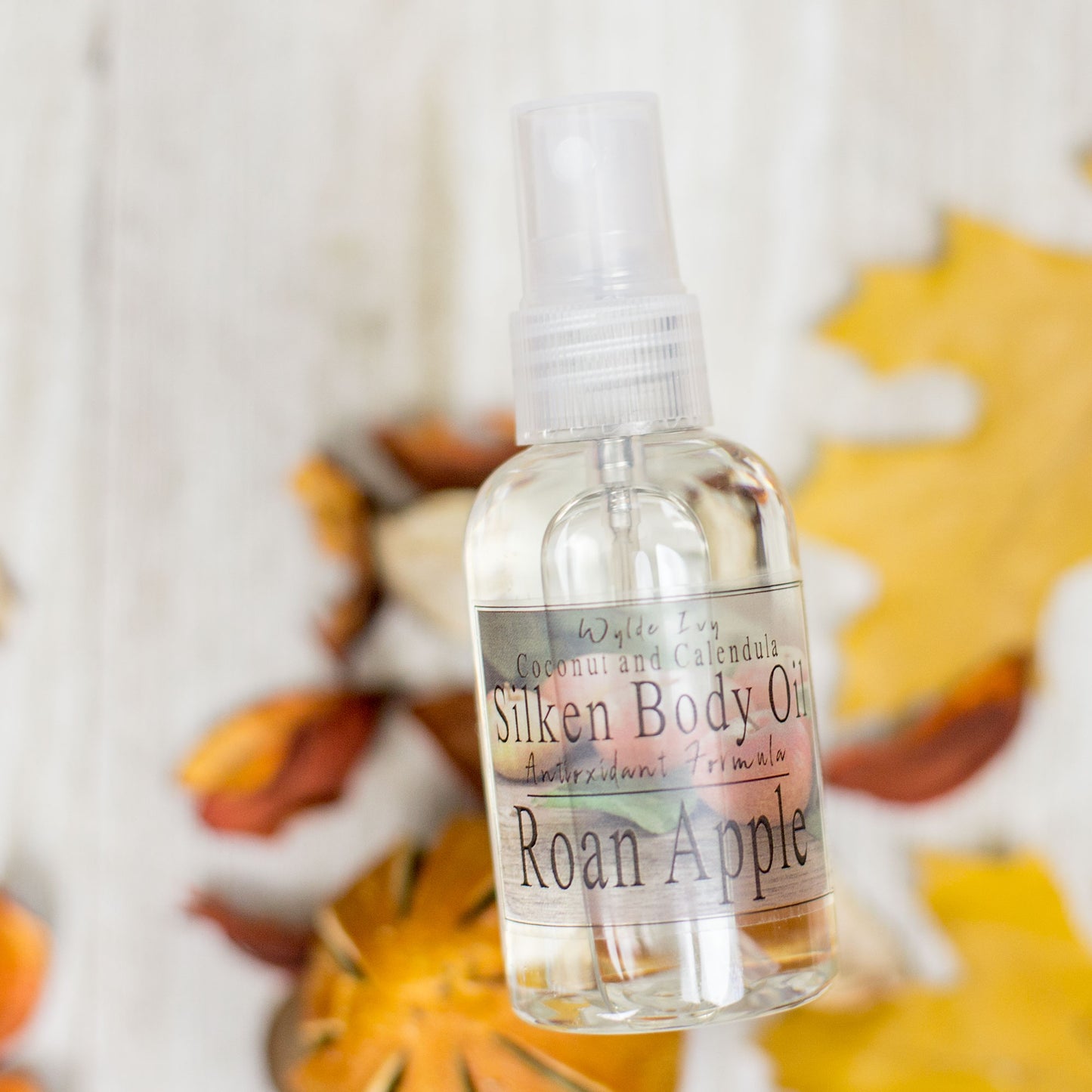 Let customers speak for us