Wylde Ivy
Build Your Own 10 Piece Sampler | Mini Mister Perfumes
Regular price
$55.00 USD
Sale price
$40.00 USD
Unit price
per
Sale
Sold out
Ten Mini Bottles of Wylde Ivy Perfume in your choice of scents!
Choose your own samples or if you would like to be surprised just write "Surprise Me" or "Bestsellers".

You can choose any fragrances from the Scents Page.

The Product:
Chic little "Mini Mister" bottles filled with 2.5 ml of Wylde Ivy perfumes. At only two and a half inches tall and a half inch in diameter, these little bottles can go anywhere with you! These adorable little bottles are also refillable, so you can always have a small bottle of your favorite Wylde Ivy Perfume with you! Just like our full sized perfumes, these Mini Misters feature gorgeous full color labels, each unique to the scent! Each Mini Mister holds enough product for approximately twenty sprays.

Wylde Ivy perfumes are super concentrated perfume oils dispersed in professional perfumer's alcohol. These alcohol-based sprays are super concentrated and very long lasting.


Ingredients:
Contains: SD40 Alcohol, Fragrance, & PPG-20 Methyl Glucose Ether.
Share
Happy & Smelling Divine
I ordered a 10 piece sampler of an assortment of different scents in EDP format, and narrowing them down was so difficult. I really liked everything I tried, all of the scents I received were so different from each other and they were all beautiful in their own ways. Ashlee even included 2 additional spray samples with my order as freebies (along with a cute sticker!) and a coupon code for next time which is perfect for when I full size my favorite samples. The order was also shipped quickly, and everything was packaged beautifully. I couldn't be happier and I highly recommend giving this brand a try if you're on the fence!
[P.S my favorites were Rare Moon and Raven, and I also will order Frosted Lavender, Rain + Fern and Seawall in the future as well!]
Awesome!
Ashlee is awesome. I loved all my scents. Unfortunately, when l received my samples l was so excited to smell them that when l pulled off the cap of Raven half spilled out of the tube. That was my fault because l didnt know it was not screwed in all the way😑. Other than that everything was amazing!!
Fun little sample sprays in a cute little...
Fun little sample sprays in a cute little bag. I have so many of these I have gotten over the years and I love them. I ordered the Love Notes and Rain Garden perfumes along with some others. The newest collections go right along with the scents of perfection from this shop. Love notes being sweet and flirty. Rain garden fresh and invigorating. Thank you for everything I always look forward to my Wylde Ivy orders!
My first ever order from Wylde Ivy- I had...
My first ever order from Wylde Ivy- I had purchased two sets of ten samplers and I was blown away. Not only were the scents amazingly unique & exquisite, beautifully labeled & wrapped, and carefully packaged for shipping, but she was generous enough to include five extra samples along with an coupon! It was like Christmas! This is an excellent business with a talented seller who cares & adds a personal touch, and I am so happy I came across it— I am now a forever customer. The only downside is that I now will have struggles in picking which scents to buy in full size, since I pretty much want them all! Haha. I'll also be back to sample the Halloween and autumn collections! 💖
Exceptional
Exceptional service and super fast delivery. I love the Violets & Creme and the Frosted Lavender. I gave all of them out as party favors and everyone loved them. All 10 spray sample scents were excellent and the spray nozzles all worked perfectly. Everything was packed securely--no leaking.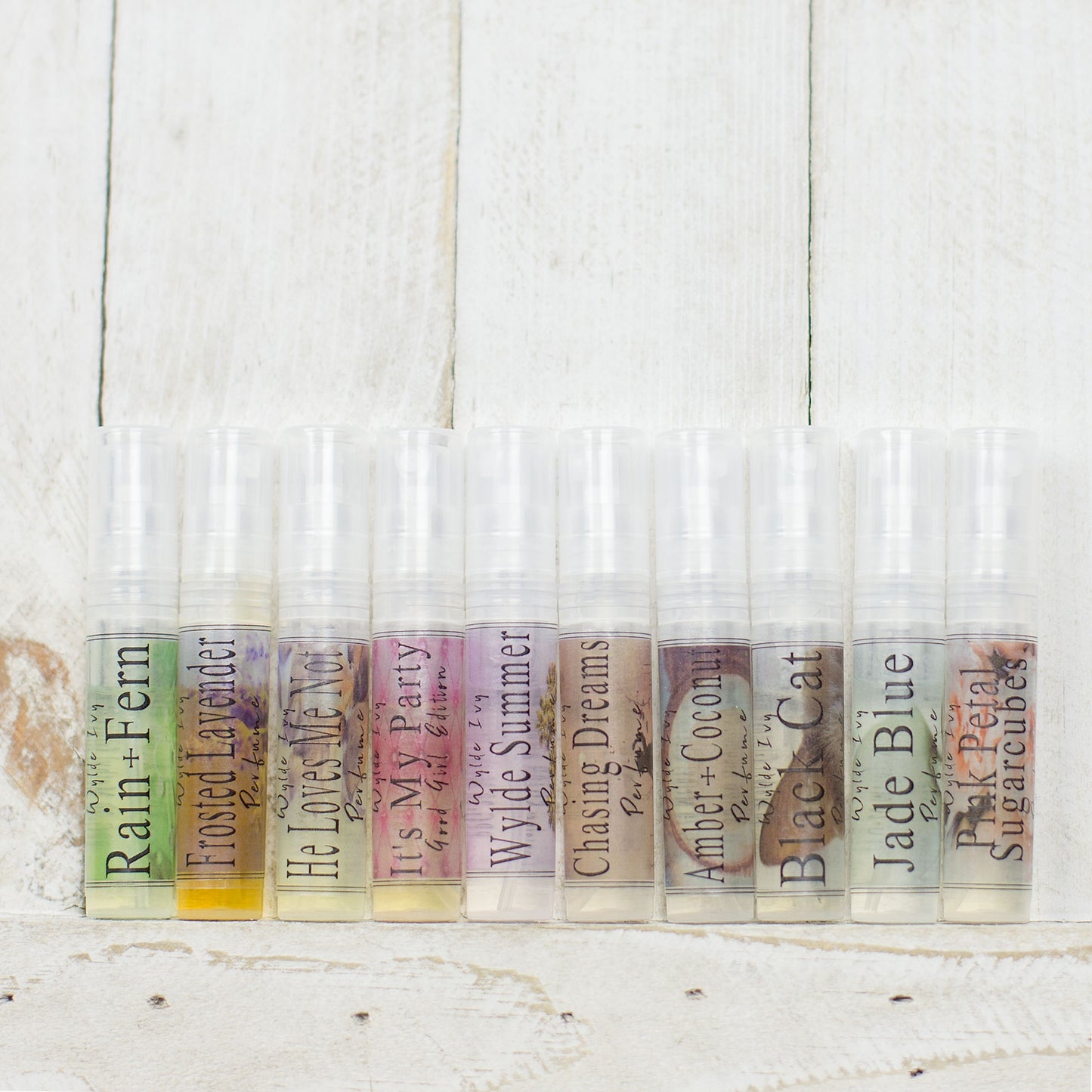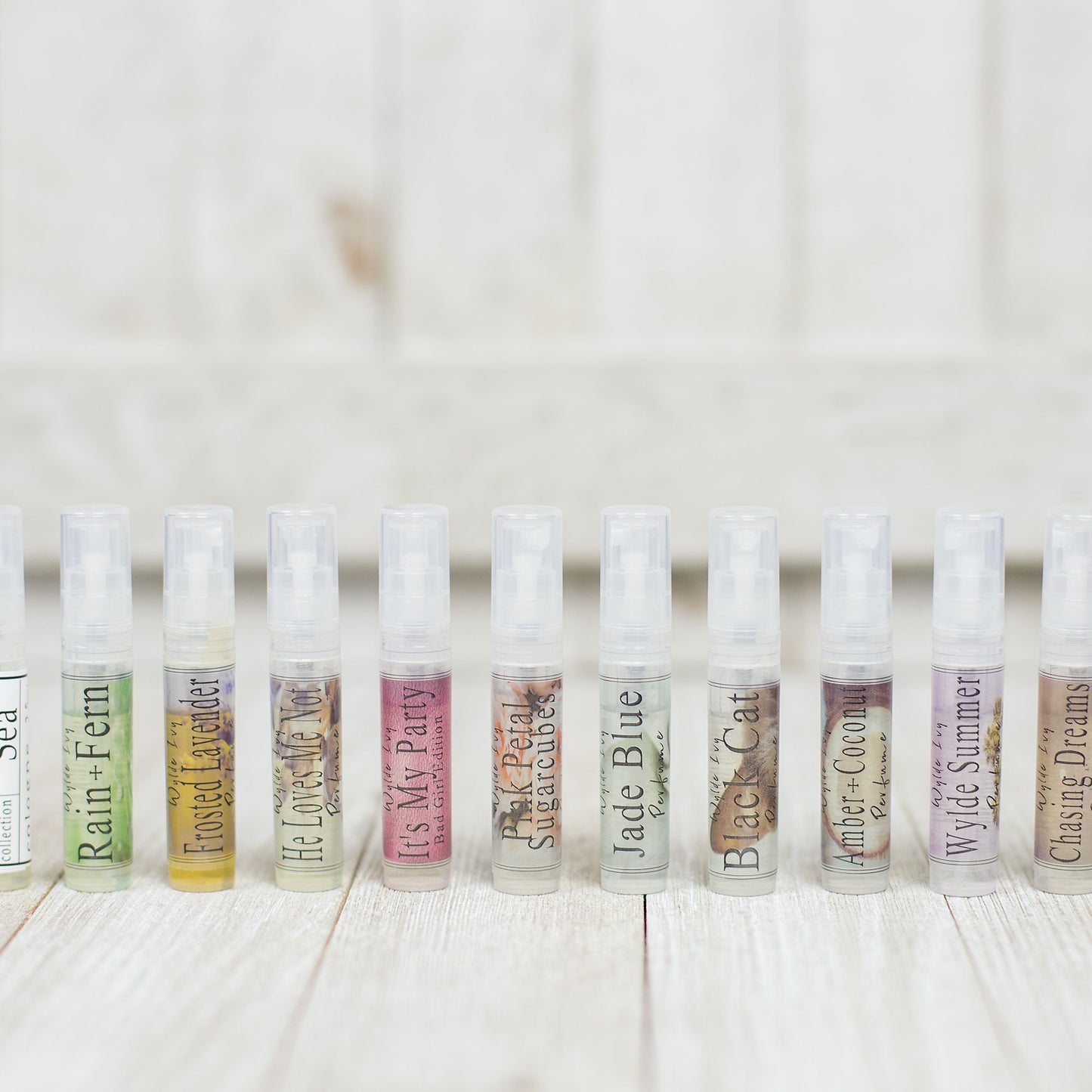 Let customers speak for us