Wylde Ivy
Build Your Own 10 Piece Sampler | Perfume Oil Samples
Regular price
$55.00 USD
Sale price
$40.00 USD
Unit price
per
Sale
Sold out
Choose the scents you want to sample! Ten Micro Bottles of Wylde Ivy Perfume let you find your perfect scents. 
Choose your own samples or if you would like to be surprised just write "Surprise Me" or "Bestsellers".

You can choose any fragrances from the Scents Page.


The Product:
Miniature glass bottles filled with 1.5 ml of Wylde Ivy perfumes. Just like our full sized perfumes, these Mini Perfumes feature gorgeous labels, each unique to the scent! This sample set comes tucked inside of a plain muslin pouch, perfect for gift giving, travel, or storage.

Wylde Ivy perfumes are a mix of essential oils, fragrance accords, and cosmetic grade fragrance oils dispersed in skin friendly Jojoba and Coconut Oils. Crafted in small artisan batches, Wylde Ivy fragrances are paraban, phthalate and cruelty free. Oil based perfumes have a more subdued silage reach (the distance from which a fragrances can be smelled) which makes them perfect for more intimate fragrances. Perfumes in oil form, tend to react more with your personal skin chemistry giving each wearer and unique fragrance. Even at a greater concentration, Perfume Oils may fade on the skin during wear. It is common to apply a little oil to the hair as well as clothing (please spot test first) to prolong the fragrance.

Ingredients:
Contains: Jojoba Oil, Fragrance, Coconut Oil, & PPG-20 Methyl Glucose Ether (natural sugar derived fragrance anchor)

Share
Great Samples
I did only really love like 3.. but one of them was a freebie sample. It's so nice tho to have a bunch of options sent to you that are so unique. Will be buying multiple full sizes!
So many scents I wanted to try so I am hap...
So many scents I wanted to try so I am happy with the choose your own set. Loved most of the scents. (All were well done) once I decide my favs I'd love full bottles
I got the sampler to try a bunch, and they...
I got the sampler to try a bunch, and they're all such great scents! It has a decent longevity and did not irritate my skin.
This review has no content.
This review has no content.
My order came in about a week---which was...
My order came in about a week---which was fast considering how many orders Ashlee must have had thru the Holiday time off. Everything was packed & labeled neatly and put in a little canvas baggie--plus 2 extra samples to try. I was able to split my 10 samples into an order of 5 spritzers and 5 oils--which I liked because I like to use both. I ordered my usual favorites of Frosted Lavender/ Violets & Creme/ Candied Orchid--plus One Thousand Lights & Vanilla Glow. The last two are new fragrances for me, but definitely show promise for future ordering. Thank you, Ashlee, for the extra samples and for allowing me to split my order. Your quick reply to questions and your fast shipping are greatly appreciated.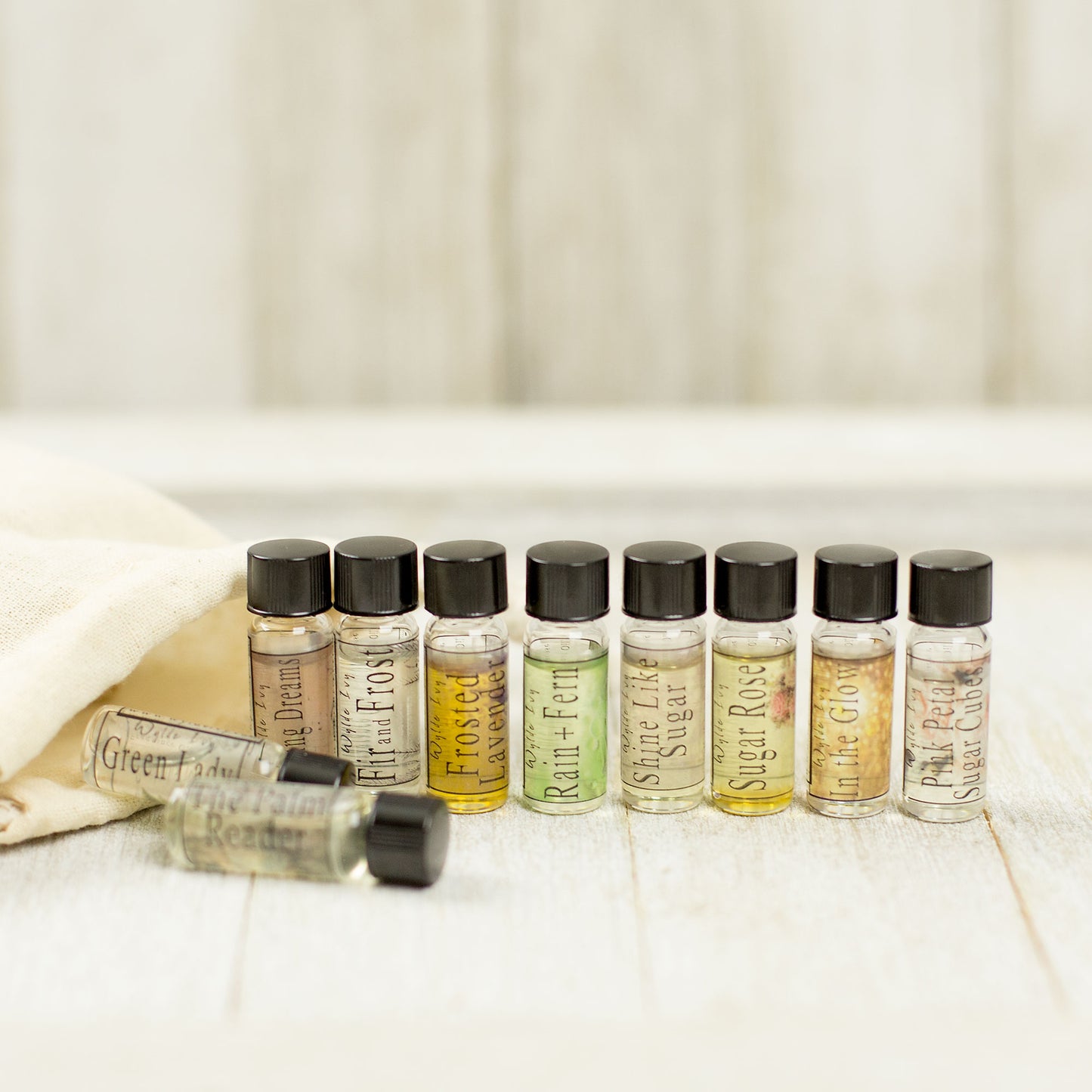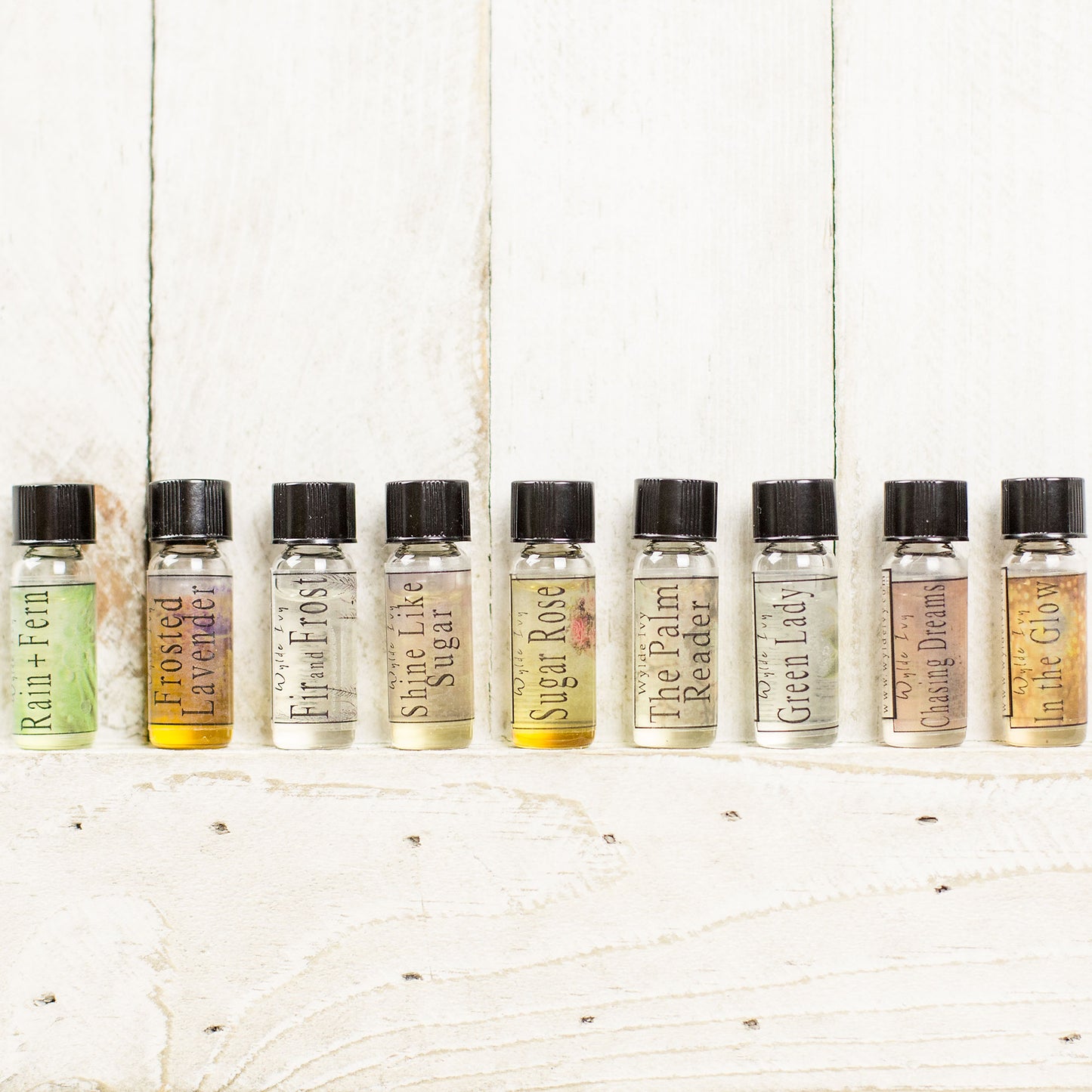 Let customers speak for us