Wylde Ivy
Love Note Collection Sampler Gift Set
Regular price
$30.00 USD
Sale price
$30.00 USD
Unit price
per
Sale
Sold out
The perfect way to give the gift of Wylde Ivy fragrances to a friend, a loved one, or even yourself! Try all five radiant fragrances from the new Season of Light Collection. The mini perfumes are wrapped in waxed tissue paper and nestled inside to an aluminum tin.
This sample set makes a beautiful and unique gift!

The Love Note Collection
A collection of sweet dreamy spun sugars, airy musks, and pink petals; inspired by love notes left hidden, whispered, and wished for.

Contains:

All the Ways:
The paper was small, almost unseen under the tray on her vanity. She almost dismissed it as she hurried along preparing for the day but on a whim slid it free to be greeted not with her own handwritten reminder note, but with his scratchy hurried scrawl. "I love all the 1,001 ways you smile." That one smile, the small private one, washed over her face as she added the note to the jar with the others.
Sweet and unassuming, a beautiful skin musk fragrance that is both comforting and alluring. Rice flowers, pink amber, fresh Asian plum, a touch of sweet coconut water, miniature violets, blackberry juice, and sheer vanilla musk.

Just a Look:
It was a tradition. Every anniversary they would meet at that spot on the boardwalk, their spot. The spot where he had been sitting with a guitar in his lap surrounded by friends and where she had chanced to walk by barefoot and giggling with hers. She looked up and he looked up and time just stopped. Time has a funny way of both stopping and speeding up when you are happy. The guitar was long gone, but he now held a single flower and all the love in the world in his eyes. He handed her the flower and a small paper hanging from the stem said "I still remember how you made me feel with just a look, that first look."
Flirty and carefree blend of sweet nectars and lush floral that demands more than just a look. Bright notes of bergamot, sweet black raspberry, sun warmed magnolia, tuberose, sheer musk, night blooming jasmine, orange blossom, and wildflower honey.

Kisses Like Candy:
She never liked to admit she was predicable but she did love a routine. She could not drive anywhere without first fastening her seat belt, pulling the belt out only to have to snap right back against her chest, putting on the lip balm she kept in the car, and then finally donning her sunglasses. She popped open the compartment to grab her glasses and a small folded piece of paper fluttered down and landed in her lap. "Your kisses are the sweetest things, kisses like candy." A small laugh escaped as she put the car in reverse and pressed her lips together to feel the glide of her cotton candy lip balm.
Simple, sweet pink cotton candy kissed with a touch of pink magnolia, mandarin peel, soft amber, night blooming jasmine, pomegranate, heliotrope, and sugar musk.

Pink Willow:
She loved the garden in the morning. It was her special refuge on weekends. She walked, tea and book in hand to the small bench in the center. There, written in chalk on a stone was the note "I'll never forget our day under the pink willow". She would never forget that day either. An impromptu picnic interrupted by a rouge rain storm. They took shelter under a massive willow tree whose weeping branches hid the outside world from them. The sunset that painted the sky after the storm washed the tree in shades of pink they have never before seen. There, hidden and bathed in pink and surrounded by the soft fragrances of spring the promised each other forever.
Demure, innocent, and sweet. The scent of cool spring dew clinging to delicate flowers wrapped in a blanket of white musk with a slight blush of pink. Notes of white musk, lily of the valley, spring rain, water lily, willow, and bamboo leaves with a hint of strawberry, apricot nectar, and vanilla orchid.

The Way You Blush:
She woke to warm pink light streaming through the window and spilling across the bed. The birds were singing softly outside and she thought that this had to be the sweetest way to wake up. She lounged in the warm sun before finally slipping out of bed and making her way to the bathroom. She flipped on the light to see a words on the mirror. "I love the way you blush." She smiled to herself, felt the familiar warmth spread to her cheeks, and wished she did not have to wash away this note.
Sweet and all innocence. Cotton candy, sweet vanilla infused sugar, crystalized bergamot, and candied violets.

The Product:
Chic little "Mini Mister" bottles filled with 2.5 ml of Wylde Ivy perfumes. At only two and a half inches tall and a half inch in diameter, these little bottles can go anywhere with you! These adorable little bottles are also refillable, so you can always have a small bottle of your favorite Wylde Ivy Perfume with you! Just like our full sized perfumes, these Mini Misters feature gorgeous full color labels, each unique to the scent! Each Mini Mister holds enough product for approximately twenty sprays. These five perfume minis are wrapped in tissue paper and packaged in a darling tin, perfect for gift giving.

Wylde Ivy perfumes are concentrated perfume oils dispersed in professional perfumer's alcohol. Crafted in small artisan batches, Wylde Ivy fragrances are paraban, phthalate and cruelty free.


Ingredients:
Contains: SD40 Alcohol, Fragrance, & Methyl Glucose Ether.
Share
There are so many independent perfumeries...
There are so many independent perfumeries that trying to decide which one to sample from can be overwhelming, and then many of the shops carry very long scent lists which further feeds the indecisiveness of having too many options. Wylde Ivy has won my heart by not having a crazy long amount of available perfumes AND they have the option of alcohol based scents; so many independent shops are oil only. I love the sweet scents Wylde Ivy makes; it's the perfect balance of dessert/candy with other notes that make it even more intoxicating. The candied flowers and love note collection are both great sets to sample!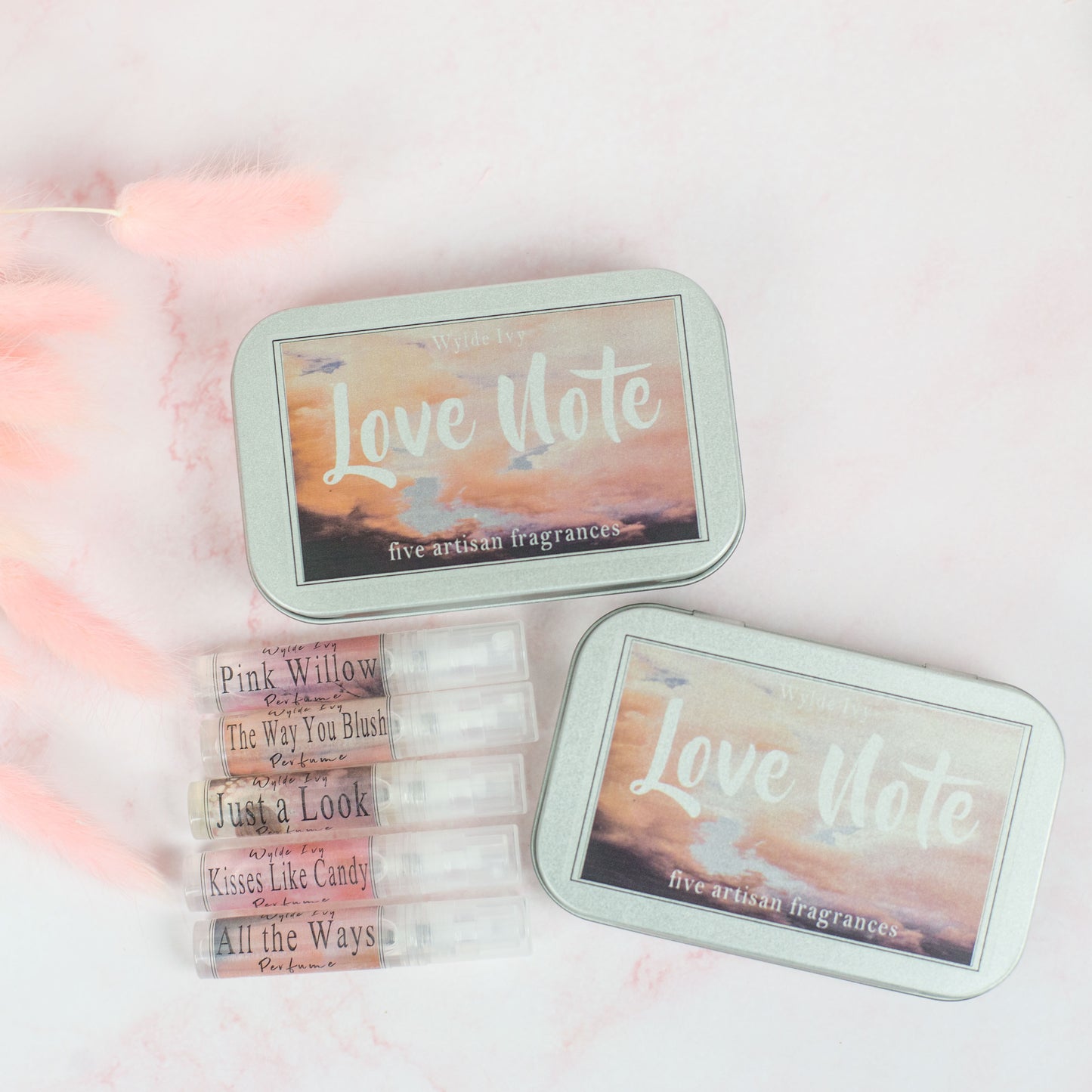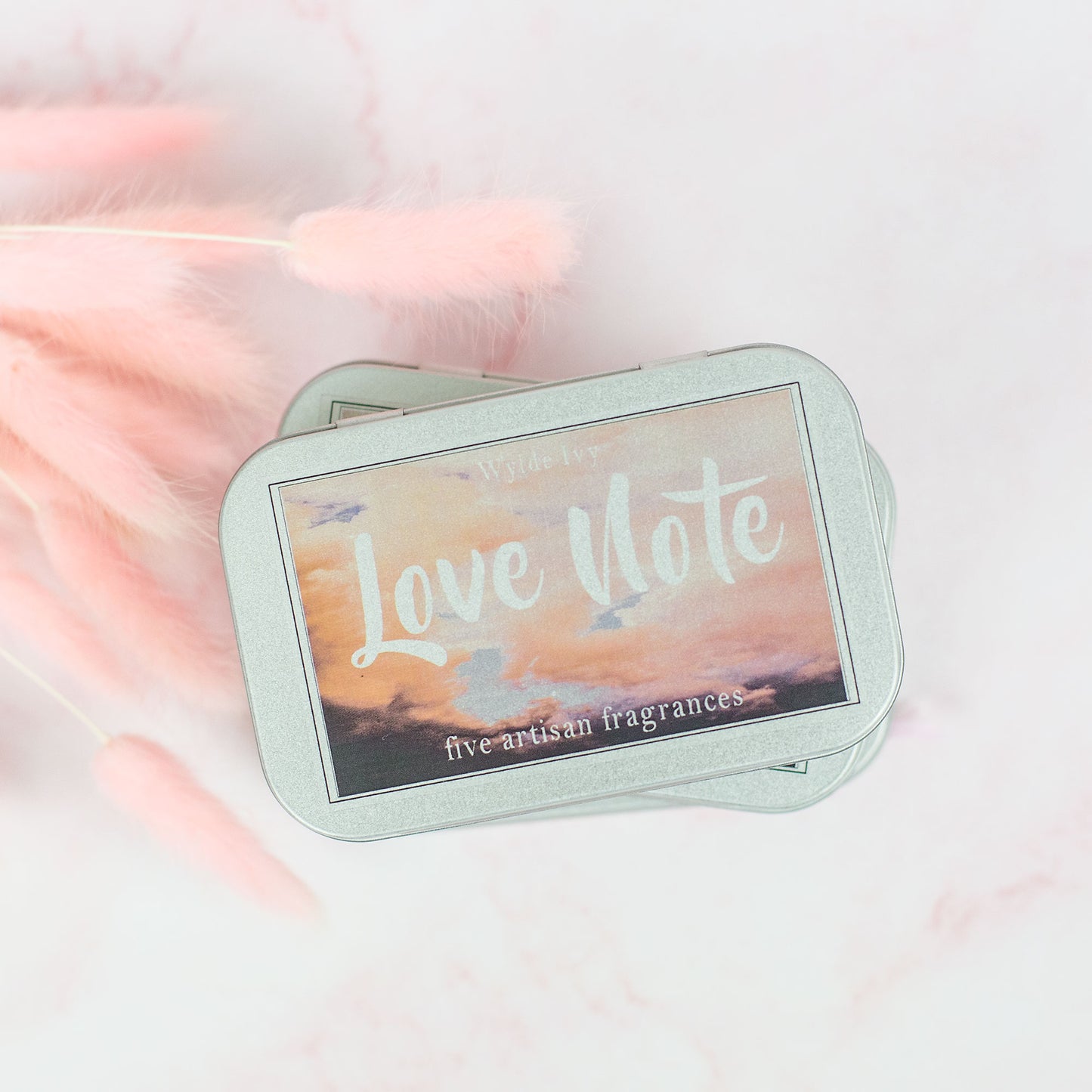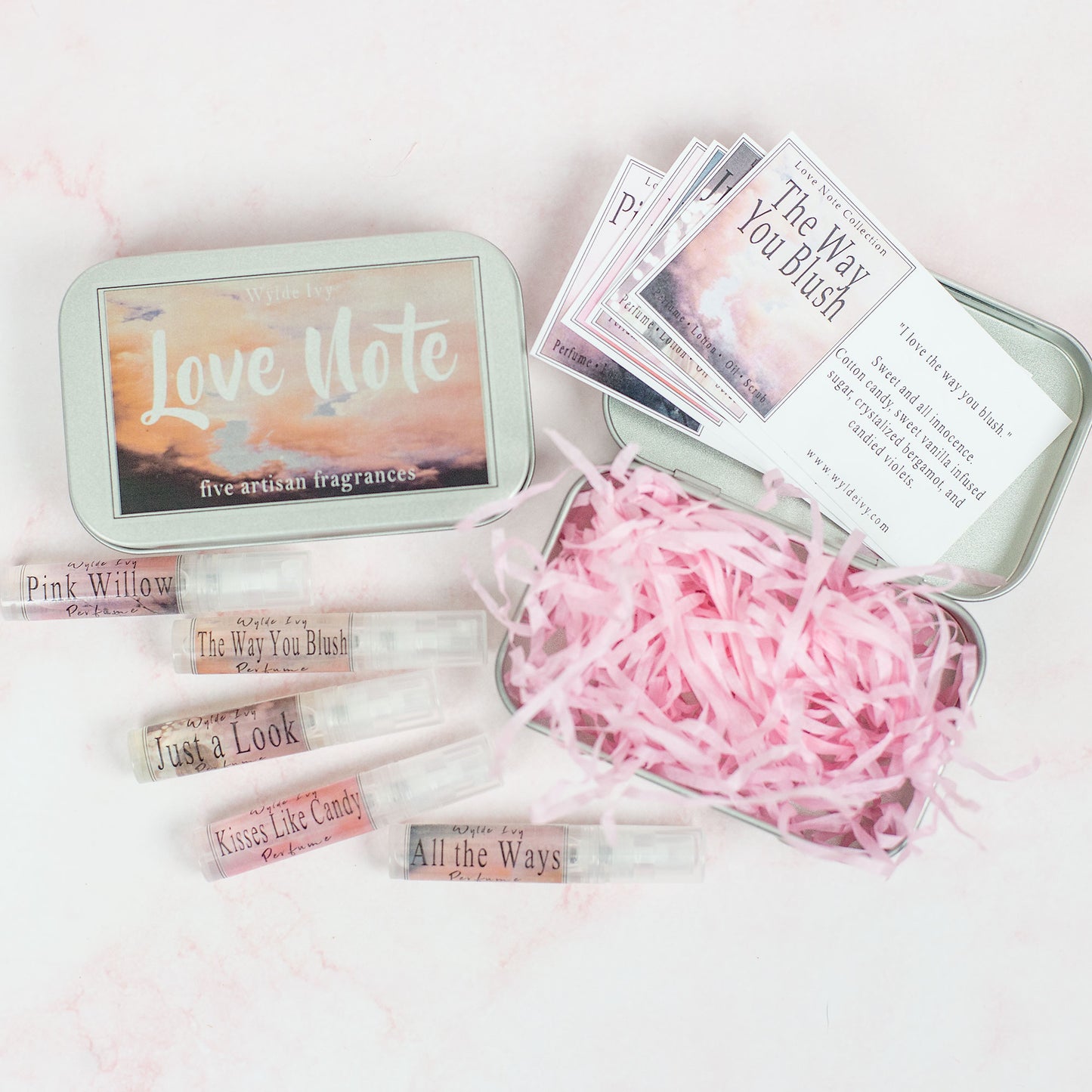 Let customers speak for us